BAMBOOLOO
---
Bambooloo composting toilets bring together function and form to create a stylish eco toilet receptacle.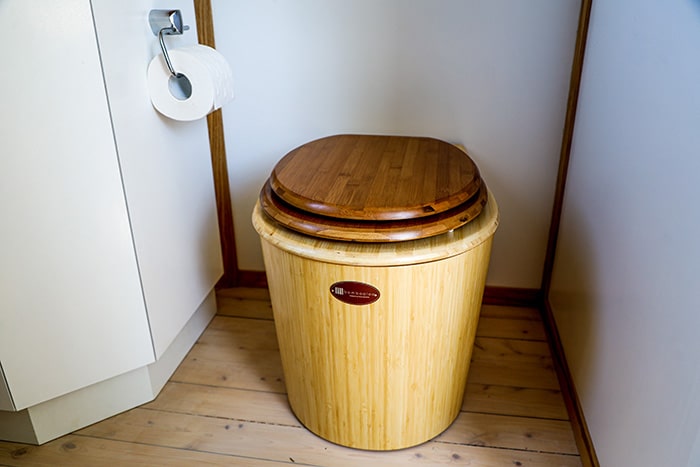 Bambooloo is a New Zealand based, family company dedicated to producing high quality composting toilets. Let's face it folks, we only have one planet and for that very reason, it's essential that we find better ways of managing our waste.
Composting toilets are the perfect solution, as they turn what is commonly thought of in our society as a waste product (human pee and poo) and turn it back into a valuable resource for our earth in the form of high quality, nutrient dense and pathogen free compost.
Our composting toilet receptacles are expertly designed and crafted from the highest quality materials. That means they don't only look great, but are also built to stand the test of time. Bamboo has a greater density than many hardwoods, giving it greater resistance to moisture and is a very long lasting product.
"I approached Bambooloo (WCTNZ Ltd) because i built a Tiny House at Piha for family use, as a retreat from the city and for overseas guests wanting to experience the wild west coast beach of Piha. Dylan from Bambooloo helped me by showing me the options to regular flushing toilets. At first I was skeptical and afraid the guests would not be able to cope. I live in New York so I took a gamble.The result was that the guests were totally fine with it. I have had 100% good reviews for my place from all the guests that have stayed there. It is eco friendly and in keeping with the natural environment. I found the experience amazingly easy as i have just returned to NZ for a visit and have been using the Bambooloo for the very first time. It's as simple as can be with absolutely no odour whatsoever. I would recommend Bambooloo to people who need a toilet for out of the city areas or holiday baches. It is certainly 100% better than the Long Drop!"
Susannah Marks, B & B Owner
"I've been using my Bambooloo composting toilet in my Tiny House since April 2016 and I absolutely love it. It's simple to use, there is no smell and it looks great in the bathroom. Together with my girlfriend, we worked out that we save around 25,000 litres of water every year simply by not using a flushing toilet."
Kyle Sutherland, Tiny House Dweller
"The Bambooloo is an evolution of the simple bucket toilet concept. You can spend a lot of money on composting toilet solutions, but in the end it's hard to beat a simple collector followed by a thermophilic compost process. The world would be a better place if we all looked after our own crap."
Bryce Langston, Living Big in a Tiny House
Video Testimonial
---
Showcasing the use of the Bambooloo in a tiny home.

Caravanning on the go.
---
Bambooloo composting toilets are constructed to be light and strong, to cope with on-road and off-road conditions. Storage of buckets is easy and safe for later composing.
Boating on the go.
---
Built with a boat-construction technique, the Bambooloo reflects the durability and contours of hull designs. Ideal for house boats and day sailors.


Camping on the go.
---
For life-style glamping and holiday camping, the Bambooloo is the versatile solution with environmental benefits.

Life-style living.
---
Bambooloo is a very effective on-site composting toilet solution, where getting in touch with the land with composting is truly possible.
Tiny Homes
---
With tiny home living the most energy efficient and reliable toilet is desired. Bambooloo meets these requirements with the added benefit of been small and light weight — all this with the look and feel of a stylish hand crafted toilet.


Making it through.
---
Protect your family in times of disaster by proving them with a safe, reliable toilet.  The stylish Bambooloo composting toilet is excellent for distaster relief and retaining dignity.